hor.de | Gedichtsammlung | Wörterlisten | Notizen

Anita Berber's Cocaine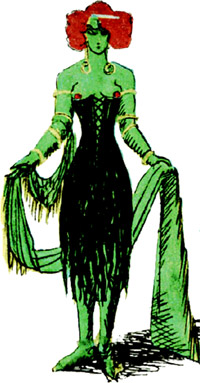 Tänzerin und Stummfilmstar Anita Berber (1899-1928) schrieb mehrere Gedichte, von denen eines, Kokain, noch recht beliebt scheint - zumindest in der Gedichtsammlung ist es unter den 'meistgeklickten'. Sie wusste, wovon sie schrieb. Der Text ist gemeinfrei, Anita Berber starb vor mehr als 70 Jahren. Da es keine englische Übersetzung zu geben scheint, hat mich Hannah Esposito um eine gebeten. Die darf nun ebenfalls jeder verwenden - und gerne verbessern.
Harry Täuber zeichnete Anita Berber 1922 in ihrem berüchtigten Kokain-Korsett.
Das bekanntere 'Portrait im roten Kleid' von Otto Dix zierte eine Briefmarke:
de.wikipedia.org/wiki/Anita_Berber#Das_Bildnis_der_T.C3.A4nzerin_Anita_Berber_von_Otto_Dix

Anita Berber
Cocaine
Walls
Table
Shadows and cats
Green eyes
Many eyes
Million-fold eyes
The female
Nervous desire fluttering
Flickering life
Smoldering lamp
Dancing shadow
Small shadow
Tall shadow
The shadow
Oh - the leap over the shadow
This shadow that torments
This shadow that tortures
This shadow devouring me
What does this shadow want
Cocaine
Scream
Animals
Blood
Alcohol
Pain
Many pains
And the eyes
The animals
The mice
The light
This shadow
This terribly big black shadow.